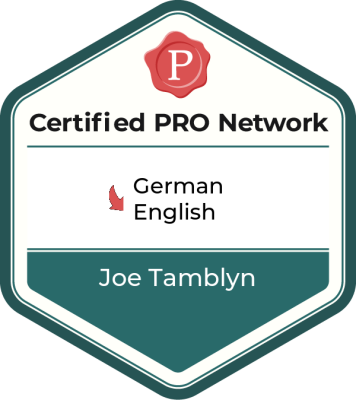 Greetings!
Some of my recent projects (also see www.joetamblyn.com):
*Telecommunications patent dispute statements of defense, replies, and correspondence
*Trademark opposition response and EU opinion papers
*End user agreements and privacy policies
*EC letters, trial SOPs, medical reports, ICFs, lab protocols, clinical outcomes
*Patent applications, utility models, abstracts, and correspondence
*Biochemistry patent for a Swiss pharmaceutical company
*Construction specifications for Lidl branch stores
*Pressure-molded auto interior plans for a DC subsidiary
*IT documentation, training projects, RFIs
*Legal texts, including insurance contracts and business conditions
*Bank statements and payroll records
*Automotive soot filter, blow molding and air applications patents
>I am also available for editing, proofreading and project management work
>Former bilingual abstractor for DE-EN academic journal articles at ABC-CLIO
>Combined work experience and translation expertise in the fields of construction industry, automotive, history, business, finance, contracts and journalism.
>Native English speaker; worked summers in Germany from 1990 through 1994, then resided in Berlin until 1997. I now reside full-time in Bonn.
>Member, Chicago Area Translators Association
>I started out working with resumes, letters of recommendation and basic texts for the Babelsberg Film Studios and other Berlin area companies. Since then, based in both Berkeley and Bonn, I have enjoyed developing my specializations in the patent and medical fields.
I primarily translate texts relating to infringement litigation, but also do claim forms, applications, and abstracts. My medical texts are normally medical reports, EC letters, SOP materials, as well as patient-facing agreements and information. On occasion, I also work with building materials texts, and translated solidian.com.
One of my most important assets a translator is an excellent command of written English. With a degree and working experience in journalism, technical writing and copy editing, I have an important tool at my disposal to combine with a solid understanding of and experience working with technical medical and patent material.
--joetamblyn.squarespace.com
--PayPal via joe.tamblyn@gmail.com
--Ein Deutsches Bankkonto ist auch vorhanden.
My CV is also attached to this profile, and references will gladly be provided.