I have been a professional English<->Greek and German->Greek translator for ten years.
WORK EXPERIENCE:
2006-2007 Translator
Translation company Eurogreek Ltd: financial (annual reports, balance sheets, economic articles), technical (construction, manuals), legal
2007-2008 Interpreter/ Translator
American engineering company SAIC: technical IT translations
(contracts, letter correspondence, technical requirements, technical design documentation), simultaneous interpretation in technical meetings with representatives of the Greek authorities, mainly a client-facing role (talks with the Police, Fire Brigade, National Centre of Emergency Care, Coast Guard concerning the electronic systems provided for the Olympic Games 2004)
2009 Senior Translator/ Project & Vendor Manager
Translation company SDL Hellas: senior project manager for the entire life-cycle of projects relating to technical documentation, legal documentation, marketing, commercial & financial documentation. Contract negotiation with external vendors, coordination, creation/maintenance of freelance vendors' database, issuance of payments
2003-now Freelance Translator and Reviewer
2012-now Greek lead translator for Ariba projects
Tasks include:
-Translation of 4 ERP software platforms spread among a team
of 5 group members
-Review/Consistency checking
-In context linguistic review/LQA
-Glossary creation/maintenance
Greek translator for EC's anti-smoking website
http://www.exsmokers.eu and all related campaigns
Tasks include:
-Translation of all marketing related materials: press releases, ads, banners
-Review/update tasks
-LQA
FIELDS OF EXPERTISE:
Software & Website Localization, Technical Manuals, Legal, Marketing & Market Research, Human Resources, Business, Tourism, Subtitling, General
NEWSPAPER SUMMARIES:
Translation/Editing of daily Eurozone-related newspaper articles (EL-EN, DE-EN) delivered to smartphones for a media monitoring and analysis company
EDUCATION:
1998- 2002 Liverpool John Moores University, UK:
BA in Modern Languages: German and Japanese
2002-2003 Leeds University, UK
MA in Interpreting and Translating: Greek<-> English
German-> Greek
HARDWARE & SOFTWARE SUMMARY:
1 PC Intel® Core™ i3 CPU, 2 GB RAM protected by avast! Antivirus
Microsoft Windows 2007, Office 2007, Adobe Acrobat 9 Professional, ABBYY Finereader 9, FileZilla FTP Client
CAT tools: SDL Trados Studio 2009, Trados 2007, SDLX, Idiom Worldserver Desktop Workbench, Passolo
ADSL connection to the Internet
ACKNOWLEDGED ORGANIZATIONS:
Greek Association of Translators-Editors-Proofreaders (SMED, GR)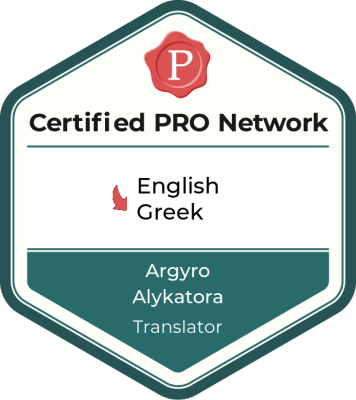 Extensive list of projects/samples and professional references available upon request!
Certified translations also provided!
Feel free to contact me at:
argyroalykatora@yahoo.gr or visit me at my LinkedIn profile