A Fellow of the Chartered Institute of Linguists, London, the main professional institute in the UK, a Chartered Linguist, and having qualified as a practising member of the Institute of Translation and Interpreters, UK, I have come to specialise in technical translations from German to English, and also from French to English. I have many specialist terms at my fingertips. I use translation memory software to form a database of past translations.
Recent work includes a series of in-house corporate magazines, the documentation for software operated at a major automotive company. user manuals for banking software, a car owner's manuals, an operator manual for machine tools, industrial press releases, corporate image documents, technical specifications, contracts, terms and conditions of business, and many more. In nineteen years of working professionally I have gained a huge amount of experience in countless fields, but mainly in technical translations.
In recent years I have owned and operated a small company offering high quality on-line training to translators and interpreters - eCPD Webinars.
www.ecpdwebinars.co.uk
I volunteer translation work to Translators without Borders: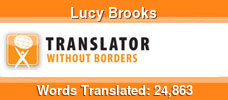 German to English & French to English & Spanish to English volunteer translator
I am also a
professional translator
: