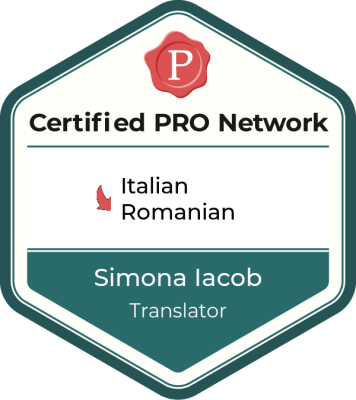 Simona is a IT, EN >< RO (MOLD) professional translator/interpreter accredited as linguistic expert registered in the public register of the Chamber of Commerce and authorised as C.T.U. of the Tribunal of Udine, Italy (The Court's accredited experts) as sworn translator/interpreter specialized in Romanian.
She also has got a University degree in Economics (2002) at the "Universitatea de Vest of Timisoara" – Romania and has an experience of 14 years in the translation and interpreting field.
Her adventure in the world of the specialized translations had started in the late 2001 as part of a professional translators team who managed the translation of the Pre-accession agricultural instrument (SAPARD) into Romanian. In that occasion, supported by expert colleagues, she learned how to build specialized glossaries, TMs, reviewing and back translations to ensure the quality required.
Later she treansfered to Italy where she got an accreditation as a linguistic expert registered in the public register of the Chamber of Commerce (2005) and was authorised by the Tribunal of Udine, Italy as a sworn translator/interpreter specialized in Romanian (2006).
She offers translating and reviewing services, but also conference interpreting as simultaneous, liaison and chuchotage interpretation services towards Romanian as well as phone interpreting.
Above the specialisations related to her university studies as trade, accounting, finance and banks, etc., she specialized in the following fields: law (verdicts, empowerments etc.) and social & medical (medical records, letters of hospital discharge, manuals and IFUs, medical device labeling etc.).
Member of AITI Association since 2014 as well as Certified Member of the Proz Certified Network for the IT> RO (MOLD) combination.

 Please consult her professional translator profile's page on LinkedIn
*****
Should you receive a proposal from me, please contact me for confirmation.
Thanks for visiting my profile page!
Simona è una traduttrice/interprete di madrelingua rumena nelle combinazioni IT, EN >< RO (MOLD) iscritta nel ruolo dei Periti ed Esperti della CCIAA Udine e CTU (Consulenti Tecnici d'Ufficio) del Tribunale di Udine con la specializzazione rumeno.
Si laurea in Economia e Commercio in Romania, Timisoara nel 2002.
Ha un' esperienza di 14 anni di nel settore delle traduzioni e dell'interpretazione.
La sua avventura nel mondo delle traduzioni specializzate ebbe inizio nel 2001 come parte di una squadra di professionisti , in occasione della traduzione nella lingua rumena dello Strumento agricolo di preadesione (SAPARD). Accanto a questi colleghi molto esperti venne a conoscenza dell'intero lavoro dietro la realizzazione dei glossari specifici a quell'epoca depositati su dischetti floppy disk, delle TM, delle revisioni e le "back translations", ossia le traduzioni inverse come metodo di garanzia per la qualità del servizio.
Successivamente si trasferisce in Italia dove si iscrive nel ruolo dei periti della CCIAA (2005) e CTU del Tribunale di Udine (2006) con la specializzazione nella lingua rumena e continua a collaborare con diverse agenzie e clienti diretti nazionali ed internazionali e varie istituzioni pubbliche e private italiane.
Offre servizi di traduzione e revisione, ma anche servizi di interpretazione di conferenza in simultanea (per conferenze, congressi e simposi ), consecutiva (per fiere, mostre, presentazioni etc.), trattativa e chuchotage, servizi di interpretazione telefonica ,etc.
Oltre ai settori connessi alla preparazione accademia come finanza, economia, marketing (brochure, cataloghi, siti web) e contabilità, corrispondenza commerciale, è specializzata anche nel settore socio/medicale (interpretazione e traduzione per l'Ospedale) e legale.
E' socio aggregato dell'associazione AITI dal 2014 e Certified Member della Proz Certified Network nella combinazione IT> RO (MOLD).

 Visualizza il profilo di Simona Iacob Bozesan
*****
Se doveste ricevere un offerta da me, vi prego di contattarmi per conferma.
Grazie per aver visitato la mia pagina di profilo!
Simona e o traducătoare/interpretă de limbă maternă română și lucrează în perechile IT, EN >< RO. Este înscrisă în registrul de inspectori și experți al Camerei de Comerț și Industrie Udine, Italia cu specializarea "Limbi străine - română" și înscrisă pe lista consulenților tehnici a Tribunalului Udine, Italia ca traducător interpret jurat cu specializarea română.
A absolvit Facultatea de Economie în 2002 în cadrul Universității de Vest Timișoara.
Are 14 ani de experiență în domeniul traducerilor.
Aventura sa în domeniul traducerilor specializate a început în anul 2001 alături de o echipă de profesioniști cu ocazia colaborării la traducerea programului de preaderare SAPARD în limba română. Alături de acest grup de traducători experți a învățat tehnicile realizării de glosare specializzate depozitate pe dischete la acea vreme, TM, revizie și back translation, adică traducerea inversă ca mijloc de garantare a calității.
La scurt timp se trasferă în Italia unde este autorizată ca traducător de către Camera de Comerț și Industrie (2005)și de către Tribunalul din Udine (2006), Italia, cu specializare în limba română și continuă să colaboreze cu agenții, clienți direcți și cu o serie de instituții publice italiene.
Alături de serviciile de traducere si revizie, oferă și servicii de interpretare simultană (pentru conferinţe, congrese, simpozioane), consecutivă (pentru întâlniri de afaceri, negocieri, prezentări) dar și chuchotage și interpretare telefonică etc.
În afară de domeniile inerente pregătirii sale universitare, activează și în sectoarele juridic și socio - medical în care s-a specializat și în care lucrează frecvent. A mai tradus și documentație tehnică, manuale și broșuri, literatură perntru copii etc.
Este membră a asociației AITI din 2014 și Certified Member al Certified Network pentru combinația IT> RO (MOLD).

 Vizitați profilul Simonei Iacob Bozesan pe LinkedIn
*****
Dacă primiți o ofertă din partea mea, vă rog să mă contactați pentru confirmare.
Vă mulțumesc pentru că ați vizitat pagina mea de profil!