Passolo 2015 and 2016 conflicting in W7 Pro
Thread poster: Thomas Loob

Thomas Loob


Estonia
Local time:

10:40




Member


English to Swedish
+ ...

| | |
| --- | --- |
| Open with... | May 28, 2018 |
Thomas Loob wrote:

I have installed 2015 and 2016 in good order, but 2015 takes over opening of all .16 files and it isn't possible to change this in the Windows settings. And yes, I have removed and reinstalled both once. Anyone else encountered this?



If you refer to the Translator Edition, no, even if I have the two versions installed. A tbulic16 should not be opened with the 2015 version, curious, but if it's the case, just right click your file in the Explorer and select Open with > SDL Passolo 2016.

Normally you also could change the files associations in the Win 7 Control Panel. Is that not the case?

Thomas Loob


Estonia
Local time:

10:40




Member


English to Swedish
+ ...


TOPIC STARTER
| | |
| --- | --- |
| Some more considerations | May 29, 2018 |
I'm really sorry if you misunderstood my first answer, I was just trying to understand the situation and I was wondering why you cannot change the file associations.

So, you cannot and I will not try to explain how it could be possible editing the Registry.





Too many entries to be sure dealing with the right one.

So, what is the problem? You have two Passolo versions installed (2015 and 2016) and you try to open a tbulic16 as expected with Passolo 2016, but it lauches automatically Passolo 2015 with a blocking error :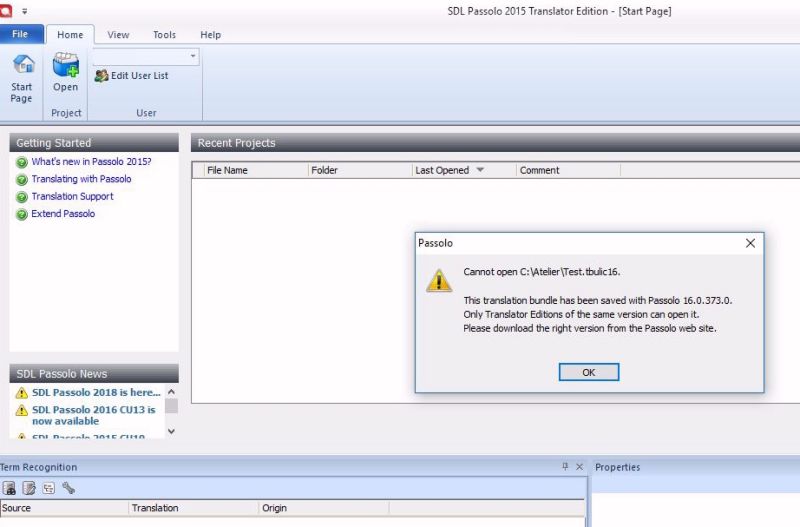 Too bad, indeed.

You says it's a conflict. Not sure, it's a special tasks repartition, maybe strange, but the different Passolo's versions are not "upgrades" with backwards compatibility. They are standalone applications, which explains that you may have different versions installed in the same computer, just like Studio 2015 and 2017 for instance.

So to open a 2016 file, you need to launch the 2016 version (be careful, all version have se same name "psl.exe") from the Explorer or a desktop shortcut) :





Then , you open the tbulic16 as usual :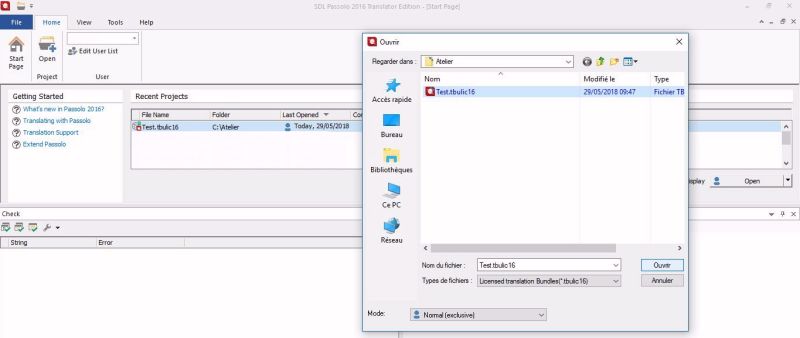 Done.

Now, if you are delaing with a 16 file, why have you to install the 2015 version? As said, the different versions are standalone (not an upgrade where you have to install the older version and then the newer). So, if you have to work only with 2016 bundles, drop the 2015 version out and you will open your tbulic16 files dopple clicking them without any trouble.

If you really also need to work with tbulic15 bundles, keep the 2015 version, and deal with the 2016 files as above explained.

I hope you understand why I estimated to be so long in my explanations. Sorry.

Good luck!
To report site rules violations or get help, contact a site moderator:
You can also contact site staff by
submitting a support request »
Passolo 2015 and 2016 conflicting in W7 Pro
CafeTran Espresso
You've never met a CAT tool this clever!

Translate faster & easier, using a sophisticated CAT tool built by a translator / developer. Accept jobs from clients who use SDL Trados, MemoQ, Wordfast & major CAT tools. Download and start using CafeTran Espresso -- for free

More info »
SDL Trados Studio 2019 Freelance
The leading translation software used by over 250,000 translators.

SDL Trados Studio 2019 has evolved to bring translators a brand new experience. Designed with user experience at its core, Studio 2019 transforms how new users get up and running and helps experienced users make the most of the powerful features.

More info »