Trouble opening the menu when you hover cursor over your name and icon in the top-right corner
Thread poster: BNN Medical Tr.

BNN Medical Tr.
Brazil
Local time:

14:07


English to Portuguese
+ ...

There are two issues with the menu that appears when you hover the mouse cursor over your icon at the top-right corner of the site:

- It is very finicky when you open the menu by hovering the cursor over the user icon, rather than the text. It will close itself on its own when you try to click any link. See gif.

- The "turn off menu transitions" button does absolutely nothing. I notice no difference at all. The animation for opening the menu is the same.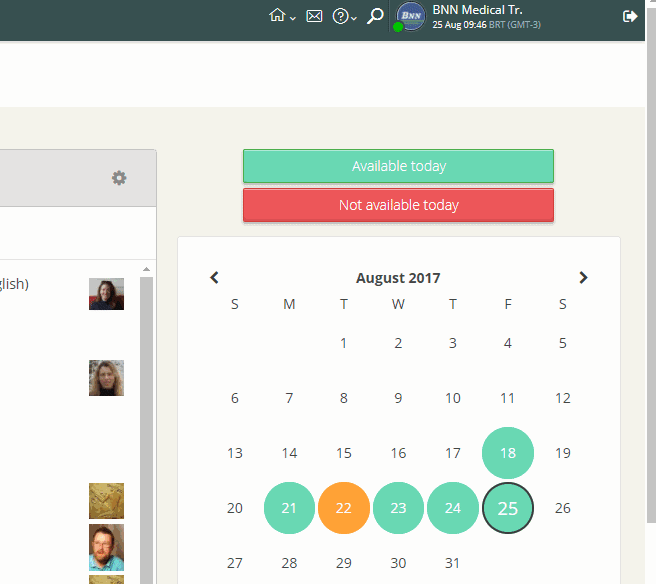 My browser:

Browser name = Chrome

Full version = 60.0.3112.101

Major version = 60

navigator.appName = Netscape

navigator.userAgent = Mozilla/5.0 (Windows NT 10.0; Win64; x64) AppleWebKit/537.36 (KHTML, like Gecko) Chrome/60.0.3112.101 Safari/537.36

My OS: Windows 10

[Edited at 2017-08-25 12:55 GMT]
Jared Tabor
Local time:

13:07


SITE STAFF
To report site rules violations or get help, contact a site moderator:
You can also contact site staff by
submitting a support request »
Trouble opening the menu when you hover cursor over your name and icon in the top-right corner
Déjà Vu X3
Try it, Love it

Find out why Déjà Vu is today the most flexible, customizable and user-friendly tool on the market. See the brand new features in action: *Completely redesigned user interface *Live Preview *Inline spell checking *Inline

More info »
Protemos translation business management system
Create your account in minutes, and start working! 3-month trial for agencies, and free for freelancers!

The system lets you keep client/vendor database, with contacts and rates, manage projects and assign jobs to vendors, issue invoices, track payments, store and manage project files, generate business reports on turnover profit per client/manager etc.

More info »