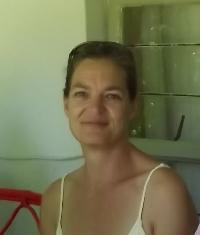 Member since Jul '04
Working languages:
German to English
English to German
Afrikaans to English
Afrikaans to German
English (monolingual)
Kathinka van de Griendt
3 Decades of Medical Experience



Local time:

21:14 SAST (GMT+2)




Translator likelihood
of working again (LWA)

Sample translations
Source text - English
All travel is now merely a means of moving a camera from place to place, all travellers are ruled by the all-powerful lens. Visitors old-fashioned enough to wish only to stand and look with their anachronistic eyes are shoved aside by the photographers, who take it for granted that while they do their ritual focusing, nothing else may move or cross their vision. Those peculiar souls without a camera must step aside for those more properly occupied, must wait while the rituals take place, and must bide their time while whole coaches stop and unleash upon the landscape the Instamatic God. And the populations of whole countries seeing themselves cannibalised, swallowed up, vacuumed into the black-ringed staring eye, wrench what they can from the cannibals. You want picture my house, my camel? You pay.

None of this would matter, perhaps, if anything worthwhile was being accomplished. If all the constant busyness and clicking produced, at its end, what had not existed before, images of beauty captured or truth told. But, sadly, this isn't so. The camera is simply graffiti made respectable.

The camera is the means by which we stamp ourselves on everything we see, under cover of recording the Wonders of the World already wonderfully
recorded by professionals and on sale at every corner bookshop and newsagent. But what use to show Aunt Maud, back home, postcards of the Tuscan landscape, since we are not in the picture to prove that we were there?

No stretch of rocks has verity unless I am within it. No monument exists
but for my wife, leaning against it. No temple is of interest without my face beside it, grinning. With my camera I appropriate everything beautiful, possess it, shrink it, domesticate it, and reproduce it on my blank sitting-room wall to prove to a selected audience of friends and family the one absolutely vital fact about these beauties: I saw them, I was there, I photographed them, and, ergo, they are.

from "Amateur Photography: the World as it isn't and our Fred" by Jill Tweedie in the Guardian
Translation - German
Heutzutage ist das Reisen lediglich eine Art, die Kamera von Ort zu Ort zu bewegen; Reisende werden durch die allmächtige Linse beherrscht. Ausreichend altmodische Besucher, die nur dastehen und mit ihren anachronistischen Augen schauen wollen, werden durch Fotografen zur Seite geschoben, die es als selbstverständlich ansehen, dass nichts Anderes ihre Sicht stören darf, während sie mit ihrer rituellen Scharfstellung beschäftigt sind. Diese merkwürdigen kameralosen Wesen müssen zur Seite treten, müssen die Rituale abwarten und manchmal sogar ganze Busladungen vorlassen, die, den Gott der Instamatik huldigend, auf die Landschaft losgelassen werden. Völker ganzer Länder betrachten sich als kannibalisiert, verschluckt, eingesogen in das schwarzumrandete starre Auge und ringen den Kannibalen alles mögliche ab. Du wollen Bild von meinem Haus, meinem Kamel? Du zahlen.

Alles wäre halb so schlimm - vielleicht - wenn irgend etwas Lohnenswertes erreicht würde; wenn die ganze Geschäftigkeit und das ganze Rumgeklicke am Ende etwas noch nie Dagewesenes hervorbringen würde, Bilder voller Schönheit oder enthüllte Wahrheiten, zum Beispiel. Aber leider ist das nicht der Fall. Die Kamera ist nur ehrbar gemachtes Graffiti.

Die Kamera ist das Hilfsmittel, mit dem wir uns auf allem für uns Sichtbare verewigen, unter dem Deckmantel der Aufnahme von Weltwundern, die bereits auf wunderbare Weise von Experten eingefangen und in jedem Buch- oder Zeitungsladen verkäuflich sind. Was nützt es, Tante Emma zuhause Postkarten der toskanischen Landschaft zu schicken, wenn wir eh nicht als Beweis für unsere Präsenz im Bilde sind?

Keine Felsformation besitzt eine Wahrheit ohne mich. Das Denkmal besteht nur, weil sich meine Frau daran lehnt. Die Tempelanlage wird erst dann interessant, wenn mein grinsendes Gesicht daneben auftaucht. Mit meiner Kamera eigne ich mir alles Schöne an; ich besitze es, schrumpfe und zähme es und reproduziere es auf meine kahle Wohnzimmerwand, um meinem auserwählten Publikum, bestehend aus Freunden und Familienmitgliedern, die einzig entscheidende Wahrheit über diese Schönheiten zu beweisen: Ich sah sie, ich war da, ich fotografierte sie, also existieren sie.



Source text - German
Tim befindet sich momentan in einer Entwicklungsstufe, an die ich mich später sicher am liebsten erinnere - weil sie vorbei ist. Nennen wir sie die "Pupsi-Phase", die Bestandteil des sich hinziehenden Prozesses des Spracherwerbs eines jeden Kinds zu sein scheint. Jeder Berliner Rapper ist gegen meinen Sohn ein Schöngeist.

Morgens, wenn Tim über meine Beine zu mir ins Bett trampelt, ruft er freudig: "Halloooo Pupsbacke." Ich bin aber keine Pupsbacke, sondern ein Vater. Und das sage ich ihm auch. Unnötig zu erwähnen, dass er auch für seine Mutter eine ganz besondere Wortschöpfung parat hat... Die meisten seiner Wortschöpfungen gründeln in Körperöffnungen und Ausscheidungsvorgängen. Das ist nicht schön.

Warum kann er nicht Kosenamen erfinden, die man gerne hört? Warum bin ich nicht einfach "Blumenpapa"? Das sei normal, sagte die Kindergärtnerin, als ich sie darauf ansprach. Ist mir egal, also beschloss ich dem Verhalten meines Sohnes mutig entgegenzutreten und notfalls Strafen für Schimpfwörter zu verhängen.

Leider fehlt es mir dafür jedoch an Autorität. Im Bestrafen bin ich nicht besonders gut. Abgesehen davon hat mir mal eine Psychologin erklärt, dass kleine Kinder mit Strafen überhaupt nichts anfangen können. Es bringt nichts, und das Einhalten von Sanktionen ist für Eltern schwieriger als für Kinder, besonders wenn es um Fernsehverbote geht. Möchte man die zum Beispiel am Sonntagmorgen um acht einhalten? Nein? Na bitte. Ich nahm mir also vor, mit Augenmaß vorzugehen.
Translation - English
Tim is currently at a stage of his development which I shall probably enjoy remembering later - because it is over. Let's call it the "farty phase", which appears to be part and parcel of every child's drawn out process of language acquisition. Every rapper in Berlin is an aesthete when compared to my son.

In the mornings, when Tim tramples over my legs into my bed, he joyfully shouts "Helloooo fart face"! But I am not a fart face, I am his father. And I make that quite clear to him. Needless to say that for his mother he also has some very special literary creations at his fingertips ... most of these creations are based on bodily orifices and excretory processes. That's not very pleasant.

Why can't he invent nicknames which we like? Why doesn't he just call me "flower dad"? The kindergarten teacher deemed this normal when I approached her on the matter. I don't care, so I decided to courageously counter my son's behaviour and to impose punishment for swear words if need be.

However, I unfortunately lack sufficient authority to implement this. I am not particularly good at punishing. Moreover, a psychologist once told me that small children do not understand punishment as such anyway. It just doesn't help! Actually, keeping to sanctions is tougher on the parents than on their children, especially the enforcement of a TV ban. Would you keep that up stringently on a Sunday morning at 8 am? No? See what I mean? So I decided to play it by ear.